​Over the last several weeks, there has been a wealth of information released about vaping and its impact on the health of users. While clinical knowledge is still developing, here are some quick facts about vaping at the moment:
Healthcare providers are seeing an increase in lung-related issues, per the CDC
The origin of these issues was initially unknown and providers who searched for terminology to document a vaping-related lung injury struggled to find such descriptors
The inability to correctly document the origin of such illnesses may delay appropriate treatment
IMO at work
Since 2014, terms have existed for vaping and e-cigarettes within the IMO domain. However, with the recent updates in clinical knowledge from the FDA, IMO has taken an active role in creating, validating and releasing more detailed code options regarding related conditions. With these continuing updates, we are poised to double the scope and breadth of our searchable and chartable terms for vaping-related illnesses within the IMO Core portal.
Vaping-related terminology added to the IMO portal listed by date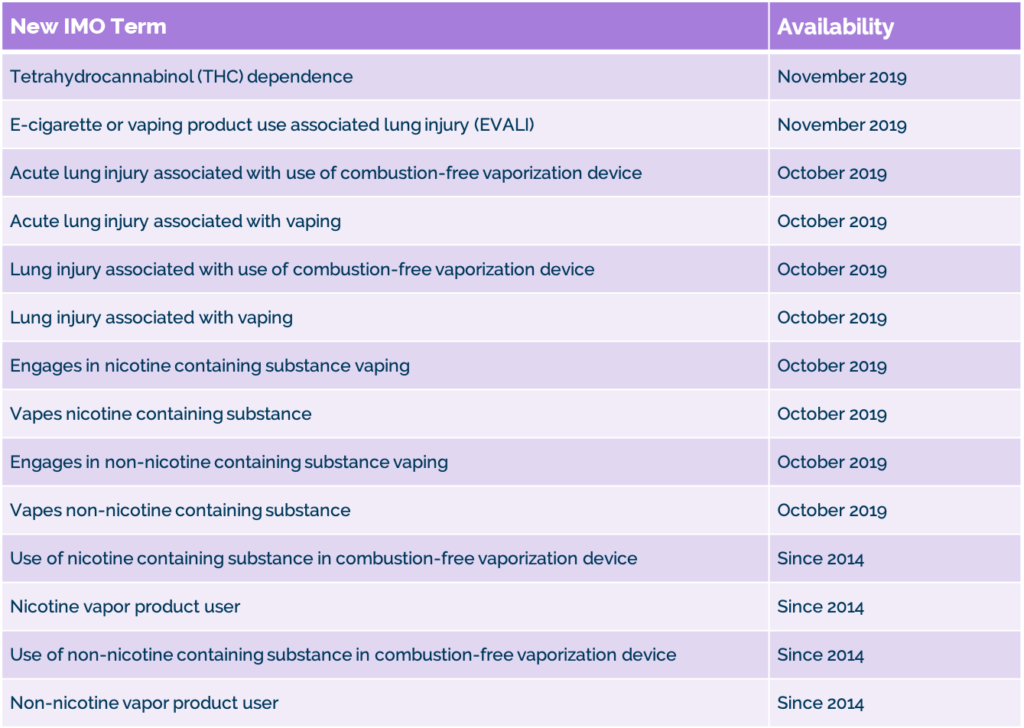 Cognizant of the need for our terminology products to continually evolve, IMO will release a terminology update that specifically addresses new vaping concerns. This upcoming release ensures our products continue to help providers correctly collect, chart, and report information about vaping related illnesses, and thus help to avoid delays in treatment due to documentation limitations.
IMO's terms allow clinicians to think and search like clinicians, assisting them when searching and selecting the appropriate vaping-related problem. We know that accurately capturing the condition is the first step in enabling providers to focus on the patient's outcome and provide the best possible care.
We are aware that efforts to get new content into the provider's workflow depends on the EHR partner's loading of the released content. That dependency prompted IMO to make almost the entire suite of terms available within the October regulatory release, while the two most recent updates from the CDC will follow later this month.
Please reach out to your IMO sales executive with questions regarding this updated IMO terminology.
Craig Knier is IMO's Vice President of Product Management and is responsible for leading the inception, creation, and delivery of IMO's portfolio of products. He has 30 years of health care experience and has presented at the HL7 Payer Workgroups, AHIP and several vendor partner workgroups. He also works with internal and external partners on the interoperability, portfolio management, and integration solutions.
About Intelligent Medical Objects (IMO)
At IMO, we are dedicated to powering care as you intended, through a platform that is intelligent, intuitive, and intentional. Used by more than 4,500 hospitals and 500,000 physicians daily, IMO's clinical interface terminology (CIT) forms the foundation for healthcare enterprise needs including effective management of EHR problem lists, accurate documentation, and the mapping of over 2.4 million clinician-friendly terms across 24 different code systems.
We offer a portfolio of products that includes terminologies and value sets that are clinically vetted, always current, and maintenance-free. This aligns to provider organizations' missions, EHR platforms' inherent power, and the evolving vision of the healthcare industry while ensuring accurate care documentation and administrative codes. So clinicians can get back to being clinicians, health systems can get reimbursed, and patients can more easily engage in their own care. As intended.
© 2019 Intelligent Medical Objects, Inc. All rights reserved.