The media landscape was very different for those of us raised in the 70s and 80s. Fewer shows and magazines. Far fewer screens. Yet somehow, there seemed to be a disproportionate number of things to fear. From quicksand to tarantulas to alligators in the sewers, there was a steady and unsettling stream of threats that rarely (if ever) materialized. We've compiled a short list – and their ICD-10 code counterparts – for anyone nostalgic for those decades of dread.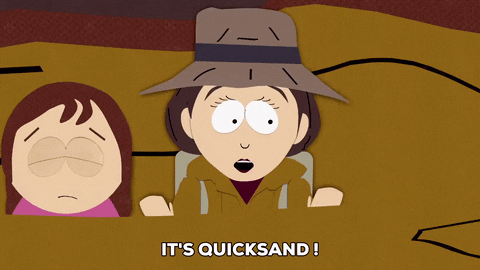 Quicksand
T71.21XA: Asphyxiation due to cave-in or falling earth, initial encounter
X39.8XXA: Other exposure to forces of nature, initial encounter
In the 80s, television and movie characters often faced the threat of death by sinking into quicksand. It turns out that it's virtually impossible to actually die this way…but it can't hurt to keep an eye out for low-hanging vines.
Struck by lightning
T75.00XA: Unspecified effects of lightning, initial encounter
According to the National Weather Service, the odds of getting struck by lightning are about 1 in 1,222,000, but the threat seemed far more imminent growing up.
Surprise-yet-slow-moving tarantulas attacks
T63.321A: Toxic effect of venom of tarantula, accidental (unintentional), initial encounter
Blame it on shlocky TV and grocery line tabloids, but the fear of random tarantula encounters was real. This UK grandmother – appropriately named Gillian Shivers – found one in a bag of grapes just a couple of years back.
Spontaneous human combustion
T21.09XA: Burn of unspecified degree of other site of trunk, initial encounter
Shows like Ripley's Believe It Or Not! and That's Incredible! made it seem like spontaneous combustion was happening all the time. And who were we to doubt them and those emphatic exclamation marks!
Shark attacks
W56.41XA: Bitten by shark, initial encounter
Jaws may have kickstarted childhood fears of shark attacks, but a steady stream of films from Sharknado to The Meg have fueled them for decades. (This was admittedly a tough fear to justify for those of us who grew up by the Great Lakes).
Sewer gators
W58.01XA: Bitten by alligator, initial encounter
The urban myth about overgrown alligators in the sewers goes back decades, but the movie Alligator, released in 1980, brought the legend to life on the big screen and in the overactive imaginations of children across the nation.